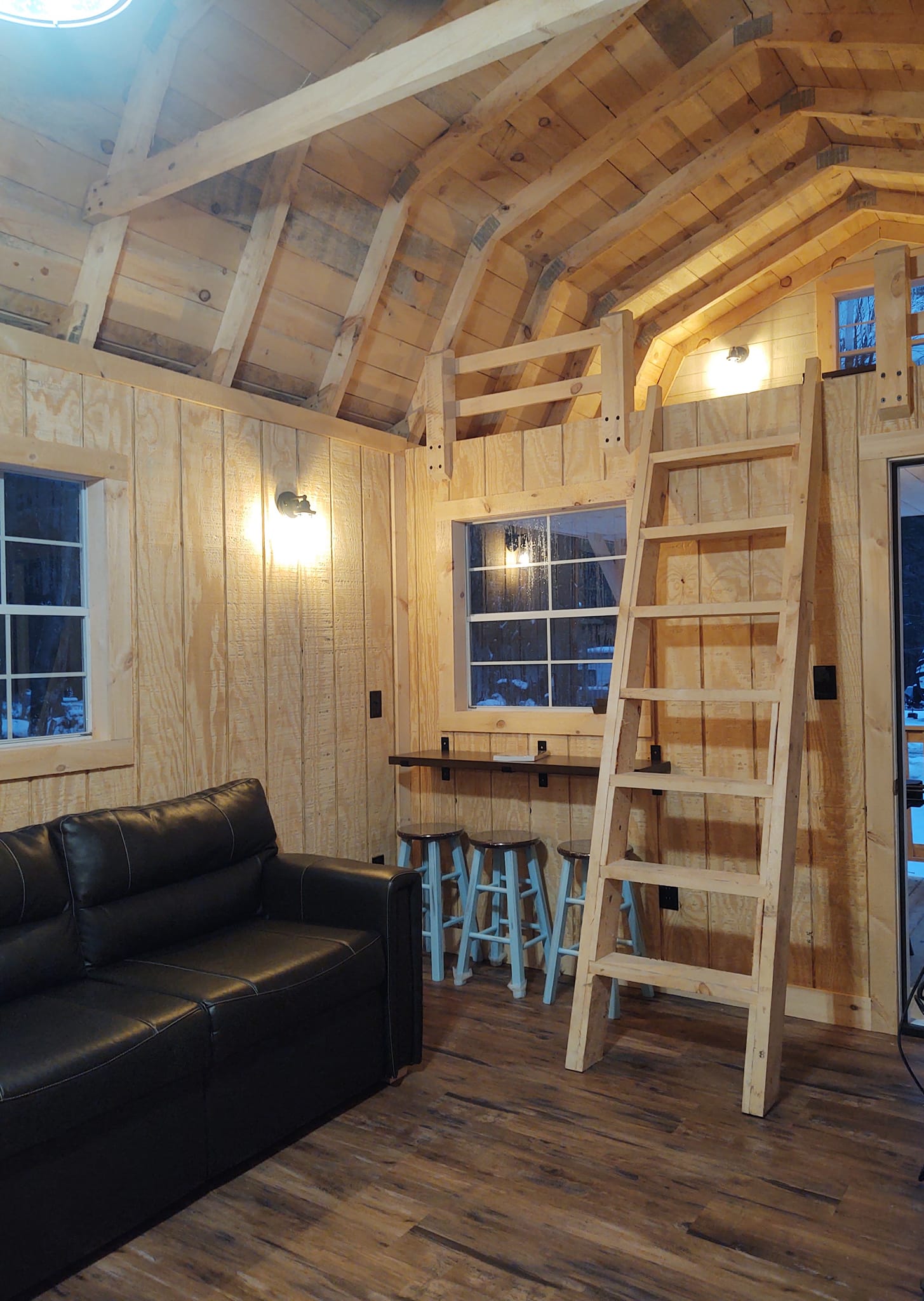 Experience the great outdoors with a little extra comfort. Make memories with friends and family around the campfire, then head inside to enjoy the luxuries of home.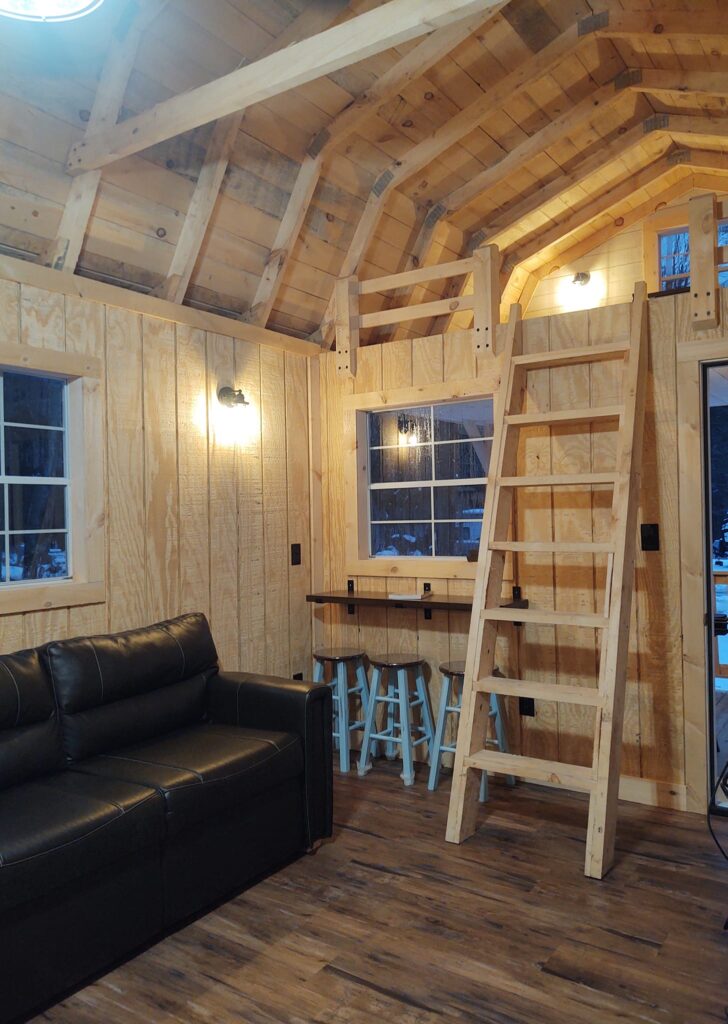 Sleeps up to 5 (4 persons included in rate)
Includes a Queen bed (first floor), 1 Double Bed (loft), 1 Twin bed (loft) and pull-out couch.
Microwave, Refrigerator/Freezer, Keurig
Half Bath with HEATED TOILET SEAT
Fire Ring with FREE 1st bundle of firewood (2 night minimum)
Picnic Table
Large Covered Porch
Bring your own linens/blankets/towels/etc.
Ceiling Fan/Air Conditioner/Small Heater
Gas Grill Rental Available ($)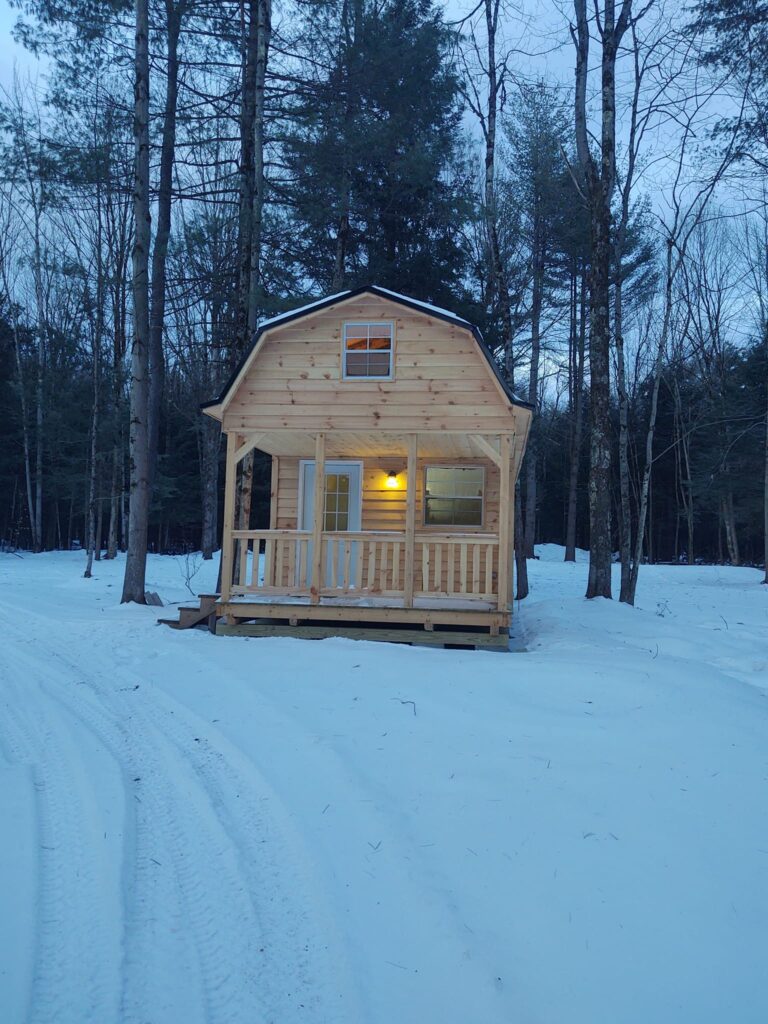 What makes cabin rentals perfect for your vacation? Cabins are a great way to connect with Mother Nature, while still being able to retreat indoors at night.
Check out these reasons for choosing cabin camping:
Ease into camping: No camping experience? No problem! Our cabin is the perfect way to test the camping waters — no camping skills required. It's also a good way to convince those reluctant campers in your group to give it a try.
Make packing easier: With cabin camping, you don't need to bring a tent or even own one. Plus, our cabin comes with a refrigerator/freezer, Keurig, Microwave, luxury mattresses, and seating inside and outside which makes your stay more comfortable and your car's load lighter!
Have an extended camping season: Don't let the changing seasons keep you from camping. When you reserve a cabin, you can comfortably camp into late fall and earlier in the spring, so you can pack in as much camping fun as possible each year.
Stay warm and dry: There's nothing wrong with a rainy-day hike or fishing adventure, but at the end of the day, you want a warm, cozy place to sleep. Our cabin keep you out of the elements, no matter what Mother Nature has planned.
Sleep comfortably: Tired of roughing it on a tent floor? Our cabin features luxury comfort beds — no need to crawl down to the ground or sleep on a hard surface. With space for four to five people, you can enjoy a comfortable space indoors during your time away from home.
Have an affordable option: Our cabins offer an inexpensive way to experience camping. You can skip all the expensive gear. Our cabin offers competitive rates, often cheaper than hotel stays, to keep your vacation on budget. When you consider all the amenities at Aurora B's Family Campground, you get quite a bargain for your money!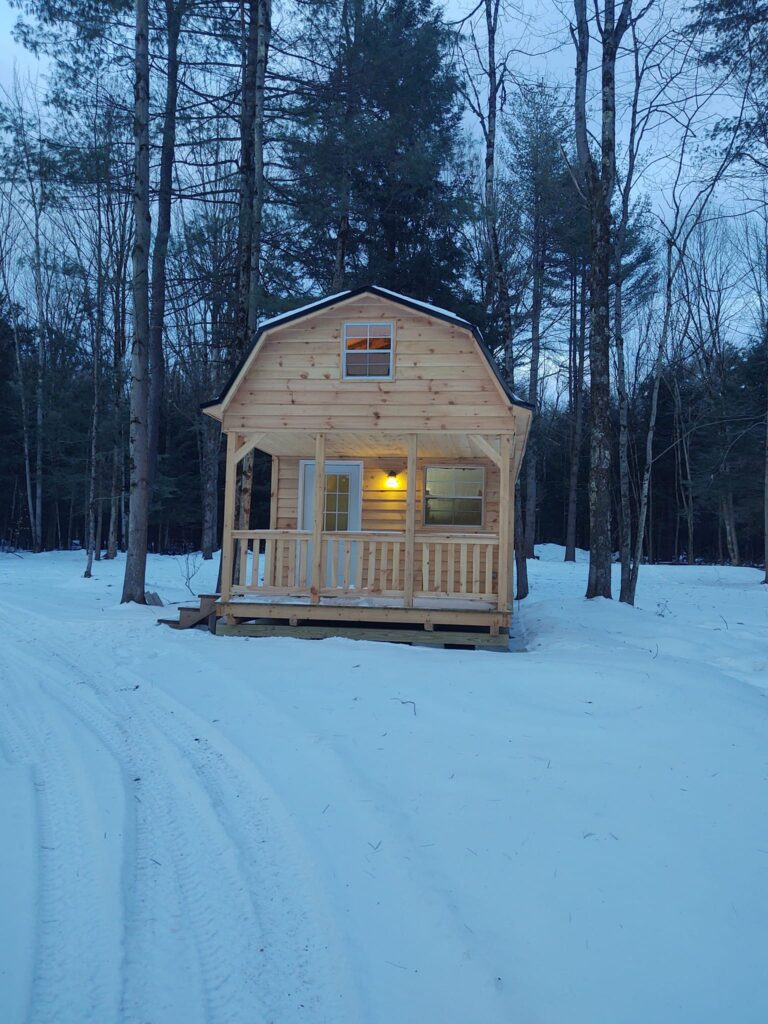 WHAT TO BRING
While cabin camping cuts down your packing list significantly, you will need some basics to make your trip go smoothly. In general, you'll need the following items for a comfortable camping experience:
Bedding: Our cabin comes furnished with comfy beds, but you need to bring your own linens. Pack sheets and blankets or simplify with sleeping bags that you can roll out on top of the mattresses.
Cooking gear: Our cabin comes complete with a refrigerator/freezer, microwave, and Keurig! Planning to cook outside the cabin? There's nothing like hot dogs roasted over a campfire — just add your own roasting forks or purchase them in our fully stocked camp store! Or rent a grille for the weekend for ease of packing! We will even throw in a free bundle of firewood* for your first night's fire for your convenience.
Personal belongings: Bring your clothing, toiletries and other personal belongings you need to enjoy your trip. Don't forget the bug spray and sunscreen if you will be out in the sun!
Towels: If you are staying in our camping cabin, there are clean (coin-operated) showers with hot water nearby, so bring towels from home to make your shower experience complete.
Activity gear: While you can spend a lifetime exploring by foot, camping is always more fun with a Frisbee or other outdoor equipment. Don't forget the outdoor essentials like your trusty walking stick and fishing rod. And keep the good times rolling after sunset by bringing your favorite board game or a deck of cards. Or just come and enjoy the many activities and amenities Aurora B's Campground has to offer!
Ready to Book?
Give us a call at (315) 992 – 4356 or click on the Book Now button below to check online for booking and immediate availability.