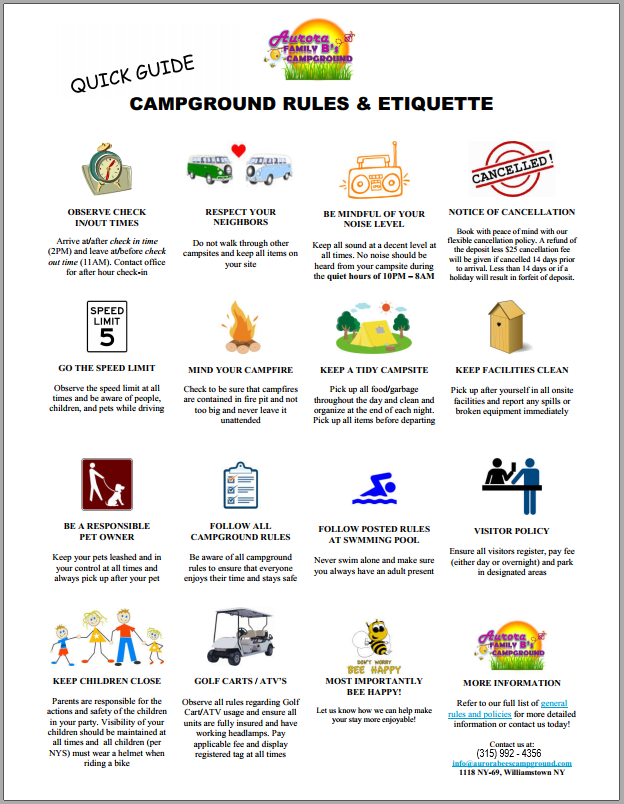 GENERAL RULES AND POLICIES
Thank you for choosing Aurora B's Family Campground for your camping adventure.
We can't wait for your visit!
Please refer to the below terms and conditions that apply to all guests and visitors of Aurora B's Family Campground.
Have questions? Call (315) 992-4356.
*Check In Time: 2:00 PM Check Out Time: 11:00 AM
*Early check-in and late check-out may be available for your stay. Please call (315) 992 – 4356 for availability.
*PET POLICY: We allow 2 (friendly, non-disruptive) pets per site. Please email a valid rabies vaccination certificate for all dogs that will be brought into our campground prior to your arrival to aurorabeescampground@gmail.com . Denial of entry will occur if proof of rabies vaccination is not provided or up to date. All pets must be leashed at all times (no longer than 6 ft in length) and never left unattended nor left outside by themselves. Anyone with a pet(s) must have full control at all times of their animals. Children under the age of 16 should not be left in control of any animals at any time. Note: In consideration of being permitted to bring ones pet to the campground you are fully responsible for any and all losses, damages and/or injuries caused by your pet and youhereby unconditionally RELEASE, WAIVE, DISCHARGE, AND AGREE TO HOLD HARMLESS Aurora B's Family Campground, it's parent company and owners from any and all losses resulting from without limitation, risks of physical injury, mental injury, emotional distress, trauma, death, contact with other guests/visitors/employees and their dogs, and property damage caused in relation to your animal. We are not responsible for any lost animals.
*CREDIT CARD POLICY: By providing your credit card at the time of booking, you agree that we are able to charge your card for any of the reasons listed herein (but not limited to) due to damage or theft caused by you or any of your guests/visitors/pets, excessive trash, cleanup, etc. left behind or for any other reason where loss or expenses have been incurred by property owner due to your campsite use/visit.
*GOLF CARTS/RECREATIONAL VEHICLES/MOTORIZED BIKES: If bringing a personal (electric) golf cart or ATV/UTV, please make sure you have proof of insurance on hand as well as a valid photo driver's license for all drivers. Golf Carts/ATV & UTV's can only be driven by licensed adults 21+ and older and must be registered with the office prior to use on our property. Please note that ATV/UTV's are only able to be used to drive in and out of the campground for use on the nearby trails only and are not to be used in and around the campground. Additional nightly fee applies. * Motorized (dirt) bikes and the like are not allowed to be used within/around campground property.
*OCCUPANCY: Rates includes up to 2 adults and 3 children (under the age of 18). Extra guests are subject to additional fees at the current rate. Parents/guardians should be conscious of where your children are at and what they are doing at all times. You are fully responsible for any and all actions of anyone under your reservation including all children and guests/visitors in your party at all times and you take full responsibility of their actions. Maximum number of occupancies per site is 8 persons. Any additional people will need to rent a separate site.
*GUESTS POLICY: All guests/visitors not registered at the time of check-in, must register with the office and pay applicable per person fee before proceeding to campsites each and every time they come on property. Any minor that is brought onto our property must have parental consent to visit the campground if not accompanied by the legal parent/guardian. The legal parent/guardian must complete the Minor Liability Waiver prior to the child's visit and can be found here: Minor Liability Waiver. Any day/ overnight visitors (whom are subject to the guest fee) are not allowed to bring pets to the campground at any time. Day guest passes are valid from 9AM – 9PM and no guests should arrive after hours without prior approval/registration with the office. If guests remain on property after 9PM the overnight charge will apply and will be automatically charged to your credit card on file. You are fully responsible for any of your visitors and their actions. 
*POND POLICY: Children under the age of 16 shall not be allowed by the pond unsupervised at any time. Please be respectful of the wildlife and do not touch, pick up, catch or disturb the ecosystem. Catch and release fishing is allowed with appropriate equipment and bait. Please do not enter the water (including hands/feet) or hang off the deck at any time.
*VEHICLE POLICY: Please limit the number of vehicles to one per site or two maximum at any one time. All vehicles should be registered with the office and additional vehicles should be parked in designated areas. There are some sites where only one vehicle will be allowed due to size restraints. Any additional vehicles or vehicles that do not fit fully on your site will need to park in the designated visitor parking area.
*BOATS/EXTRA TRAILERS: Depending on size and length an additional fee may apply. Please let the office know at time of booking by calling (315) 992-4356 to confirm.*
*SWIMMING POOL: Two or more adults (18 years or older) must be present at the pool at all times with one adult remaining on deck with at least one adult to every 3 children. Children less than 16 years of age must be accompanied by a parent or guardian or other similar adult responsible for their safety. No diving is allowed. Anyone under the age of 2 and/or those who are not able to use bathroom facilities independently must be wearing a swim approved diaper with a snug fit at all times. There shall be no smoking and no pets in the pool area at any time. In case of emergency, please dial 911. A phone is located in the Camp store/office and the camp staff can be reached at (315) 992-4356.
*CAMPGROUND PROPERTY/PROPERTY DAMAGE: We fully support the "Leave No Trace" initiative and take pride in keeping our campground clean and in functioning condition. Please be respectful and clean up after yourself and others at all times. Please notify the office immediately if you see anything unusual, out of place, or needing tending to. We reserve the right to charge your credit card on file for any damage or the like caused by yourself or anyone in your party.
*WILDLIFE: Our property is heavily wooded and is home to many different wildlife. Please be respectful and do not feed or disturb them, do not leave food or trash out overnight or cause harm to any of our wildlife family. Any person caught disrupting the wildlife or their homes will be immediately evicted with no refund.
*SURGE PROTECTOR POLICY: All camper units should have a surge protector when connecting to our electrical power boxes as electrical surges can occur at any time and be caused by many different reasons. Please note that by connecting to our power, you hereby unconditionally RELEASE, WAIVE, DISCHARGE, AND HOLD HARMLESS Aurora B's Family Campground, it's parent company and owners from any and all losses, damages, or injuries including death as a result of a power surge or the like.
*WASTE/WASTEWATER DISPOSAL: Dumpsters are for garbage produced at Aurora B's Family Campground only. No carry in garbage, large items, or debris is allowed. All black tank and gray water must be properly disposed of in the on-site waste water dumping station. We offer at-site dumping services ($) at a reasonable cost. Schedule your dumping services with the office upon arrival. We reserve the right to charge your card on file a cleanup fee for excessive trash and/or waste left behind. Dumping of grey and/or black tank sewage including defecation on your site or anywhere on property besides in the approved facilities/wastewater receptacles will result in a clean-up charge of up to $350 and you will be asked to leave immediately with no refund if caught.
QUIET HOURS: Quiet hours are from 11PM to 9AM and are strictly enforced.
HOLD HARMLESS: By entering our property, you hearby unconditionally RELEASE, WAIVE, DISCHARGE, AND HOLD HARMLESS Aurora B's Family Campground, its parent company and owners from any and all losses, damages, or injuries including death.
ILLEGAL ACTIVITIES, FIREWORKS, SKY LANTERNS: Any person caught using illegal drugs or doing any illegal activity on property will be immediately evicted with no refund. Absolutely no fireworks or sky lanterns are permitted due to our dense woods and pine needles.
PHOTO/VIDEOS: We periodically take promotional video and/or photographs and share them to our social media platforms for advertising and promotion of our business. By entering our premises, you understand that you will not receive any monetary compensation and that all photographs/videography is property of Aurora B's Family Campground, and parent company. To opt out please send us an email requesting to opt out.
MOTHER NATURE/WOODED AREAS: Camping is an outdoor activity and subject to Mother Nature. We do not provide refunds on unused days or weather related cancellations. Please note that our grounds are heavily wooded and our woods are not groomed nor maintained. We ask that you do not access any part of the woods that are not within the main campground area as there is risk of falling trees, limbs, poison ivy and other unknown hazards. By entering our property, you agree to hold harmless Aurora B's Family Campground, its parent company and owners from any and all losses, damages, or injuries including death caused by mother nature including without limitations, falling trees, limbs, branches, lightning strikes, etc.
CAMPGROUND POLICY: We reserve the right to evict anyone at any time without prior notice for any reason whatsoever with no refunds.
SITE LOCK-IN: If you do not "lock-in" your site, please note that your site selection is not guaranteed and could be subject to change prior to your arrival at any time and without prior notice.
ARRIVING AFTER HOURS?? If you plan to arrive after 8:00 PM or after the registration office has closed please call to make arrangements ahead of time for late check-in.
IN CASE OF EMERGENCY: Please call 911 as necessary and notify us immediately at (315) 992-4356.
EARLY BOOKINGS: Reservations made prior to campground opening require full payment and are fully non-refundable
CANCELLATION POLICY
Need to Cancel?
Please call (315) 992-4356 before the deadlines listed below to receive your deposit refund in the form of a camp credit, minus a $25 cancellation fee. Text, email, or social media notifications of cancellations are not acceptable.
EARLY BOOKINGS: Reservations made in the off-season or more than 6 months in advance require full payment and are fully non-refundable
RV & Tent Sites: 14 Days prior to arrival cancellation notice is required. 
No Shows: Please ensure you give us a call at (315) 992-4356 if you are unable to check-in the first night of your reservation. If you have reserved a site and do not arrive by 9PM and do not advise us of when you plan to arrive, you are considered a no call, no show and we reserve the right to charge your credit card on file for the full remaining balance for any unused days. In addition, you will forfeit your site for the remaining duration of your stay. 
Holidays and special events Holiday weekends require payment in full at time of reservation with no refunds for cancellations. Special events may have special conditions. Please call (315) 992 – 4356 for details.
Reservation Modifications: A $5 fee will apply for reservations that need to be changed or modified. 
Mother Nature: Camping is an outdoor activity and subject to Mother Nature. We do not provide refunds on unused days due to weather related cancellations.  
Reservations made after these deadlines require full nonrefundable deposits. Cancellations made after deadlines will result in forfeiture of all deposits.
COVID-19 PROTOCOLS
As the COVID-19 pandemic affects our communities, we are proactively taking steps to support the needs of our clients and their customers.
Here is a list of the ways we're working to keep you updated and tips to get you the fastest answer to any questions you may have.
We are following all CDC recommended guidelines including the requirement of facemasks indoors and in our common areas for those not vaccinated and for where 6 ft. distance is not able to be maintained.
Our sanitation procedures have been enhanced and disinfection of common areas are regularly maintained.
If your reservation is impacted by a park closure we will reach out to you accordingly. Note: No refunds will apply in the event of a closure due to COVID-19 or other global pandemic.
If you have further questions, you may call us at (315) 992-4356.
We are focused on continuing to assist the needs of our communities that we are honored to serve. We encourage everyone to check back for updates as the situation evolves.
Availability for future reservations can currently be viewed on our website and more information regarding your ability to make future reservations affected by COVID-19 closures will be provided as soon as it becomes available.
For additional information about COVID-19, please visit Centers for Disease Control and Prevention (CDC) or your local health department website.
Aurora B's Family Campground is absolved of all liability for anyone infected with coronavirus during their stay. By staying at Aurora B's Family Campground, you voluntarily assume all risks related to exposure to COVID-19. We will take all measures necessary to keep our property as safe and comfortable as possible for our guests amid the coronavirus pandemic, but please understand that there is a shared responsibility between guests and Aurora B's Family Campground. If you are sick or feeling unwell, please stay home.
DISCLAIMER: The information provided by Aurora B's Family Campground on www.aurorabeescampground.com, emailed correspondence and on the mobile app is for general purposes only. All information provided is in good faith, however we make no representation or warranty of any kind, express or implied, regarding the accuracy, validity, reliability, availability or completeness of any information on this site, email correspondence or on the mobile app.
Aurora B's Family Campground and it's owners, directors and officers are committed to providing a website that is accessible to the widest possible audience in accordance with ADA guidelines. We are always working to increase the accessibility and usability of our website to be fully accessible to all. If you should have any problems accessing or using this website, please contact us at (315) 992-4356 for assistance. Products and services available on this website are available at our office located at 1118 State Route 69, Williamstown NY 13493